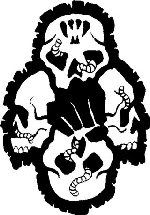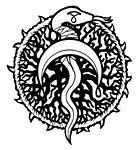 Sheriff/Hierophant/Scourge
Tabitha Devereux
aka
"The Swamp Witch"
Nosferatu (Cimitière)
Circle of the Crone

Chronicle: New Orleans by Night
Virtue: Fortitude
Vice: Pride
Concept: Creole Witchdoctor ("The Swamp Witch")
Sire: Baron Cimitière
Title: Sheriff/Hierophant

Intelligence: XXXXO
Wits: XXXXO
Resolve: XXXXO

Strength: XXOOO
Dexterity: XXXXO
Stamina: XXXXO

Presence: XXXOO
Manipulation: XXXXO
Composure: XXXXO

Mental
Academics: XXOOO
Crafts: XXXOO Voodoo dolls
Investigation: XXXXX Tracking
Medicine: XXXXX Frontier Medicine
Politics: XXXOO Vampire
Occult: XXXXX Voodoo
Science: XXOOO

Physical
Athletics: XXOOO
Brawl: XXOOO
Ride/Drive: XXOOO
Firearms: XOOOO
Larceny: XXXXO
Stealth: XXXXX Moving Silently
Survival: XXXOO
Weaponry: XXXXO Knives

Social
Animal Ken: XXXXO
Empathy: XXOOO
Expression: XXOOO
Intimidation: XXXOO
Persuasion: XXXOO
Streetwise: XXXXO New Orleans
Subterfuge: XXOOO
Rapport: XXXXX Alberto
Rapport: XXOOO Gabriella

Disciplines:
Nightmare: XXXXX
Obfuscate: XXXXX
Vigor: XXXXO
Auspex: XXXXX
Animalism: XXXOO
Resilience: XXXOO
Protean: XXXXX
Celerity: XXXOO
Cruac: XXXXX


---

Devotions:
Shadowform (Obf 3+ Prot 2)
Cloak Of Concealment (Ausp 5+ Obf 5+ Cruac 5)
Soul Exchange (Ausp 5+ Cruac 2)


---

Other Magics:
Tabitha's Voodoo Spells: Curse, Zombie, Voodoo Doll
Alchemy: 5

Humanity 4:
Derrangements: Megalomania, Power
Willpower:
X X X X X X X X O O
Blood Potency:
X X X X X X X O O O

---

Merits
Holistic Awareness: XXXOO
Disarm: XXOOO
Inspiring: XXOOO
Haven: XXXXX
Status (city): XXXXO
Resources: XXXOO
Mentor: XXXXX
Encyclopedic Knowledge (Herbalism): XOOOO


---

Flaws:
Second-Class Citizen
Socially Awkward


---

Size: 5
Speed: 12
Defense: -4
Armor: 0
Initiative Mod: 8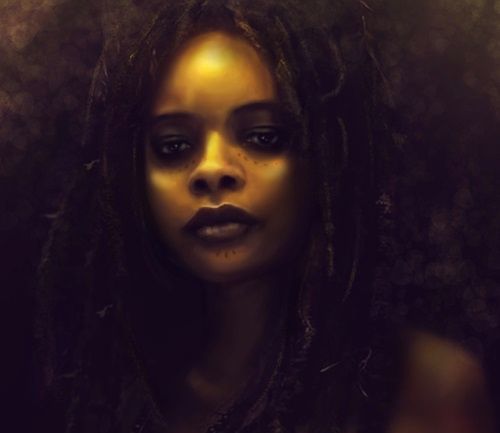 "'The Swamp Witch.' My shadow reaches far now. My legend has spread across the land. My name is spoken with fear and reverence even over the sea.
Most people are surprised when they first meet me. 'I thought you'd be taller,' they say. But it isn't long before they see how 'tall' I can be! A soul's strength isn't measured in inches; it's felt in the power that pushes out, surrounds, and overcomes that which seeks to resist it.
I am fueled by my will.
I am fueled by my city's love.
I am fueled by my anger.
I am fueled by my people's sorrow.
I am fueled by fear of invaders.
I am fueled by my faith.

I find peace in the company of my animals.
I find peace alone in the shadows.
I find peace walking with the dead.
I find peace in the arms of a 'monster.'
I find peace serving those I'm loyal to.
I find peace chanting in sacred circles.
And in the womb of my swamp I rest, and awaken restored."
Click here for Tabitha's History
Tabitha's Bluebooks:
Blue Book #1: Tell-Tale Visions
Tabitha's Parents
Nathan Devereux
Tabitha's father & former ghoul
deceased

Madelaine "Mattie"
Tabitha's mother
deceased
Tabitha's Vampiric Lineage
Baron Cimitière
Tabitha's Sire
deceased/City Spirit of New Orleans

Rachel -aka- Rowan
Tabitha's aunt
in torpor

Scratch
Tabitha's cousin
deceased
Cleavon
Tabitha's oldest brother
Prince & Hierophant of Charleston, SC

Rosa Bale
Tabitha's sister
executed by Tabitha as a traitor

Josué
Tabitha's 2nd oldest brother
sacrificed himself to save New Orleans
Tabitha's Childer
Jerome
Tabitha's 1st Childe
Tabitha's childhood friend
Desirée's husband
Sworn Of The Axe, Dragon

Desirée
Tabitha's 2nd Childe
Tabitha's childhood friend
Jerome's wife
executed by Tabitha as a traitor

Simbi M'Butu
aka Papa M'Butu
Tabitha's 3rd Childe
unintentionally Diablerized by Tabitha
Temple of Papa M'Butu

Gabriella Fortiér
Tabitha's 4th Childe
daughter of Prince Alberto Fortiér
Gabriella's Mansion

Bella
aka The White Lady
Tabitha's 5th Childe
Caretaker of the dead
& Protector of graveyards
The New Orleans Primogen
Prince:
Alberto Fortiér
Daeva, Invictus
Estate of Alberto

Seneschal:
Catharyne Evans
Daeva, Carthian

Sheriff/Hierophant:
Tabitha Devereux
Nosferatu (Cimitière), Circle Of The Crone
Mistress Of Elysium:
Sunny Carver
Daeva (Ishtarite),
Circle Of The Crone

Master Of Commerce:
Jude Burke
Ventrue, Invictus

Koigan:
Anoushka
Gangrel(?), Ordo Dracul

Carthian Leader:
Gutterball -aka- "Gus-Gus"
Nosferatu, Carthians
The New Orleans Circle Of The Crone
High Priestess Tabitha
Hierophant
Voodoo Mother

High Priestess Bella
Lady Of The Crone
Celtic Scarlet Woman
(whereabouts unknown)

Priestess Sunny
Lady Of The Circle
Ishtarite Maiden

Dedicate Nina
Handmaiden
Ishtarite Maiden
Tabitha's Inner Circle
Alberto Fortiér
Tabitha's oldest friend. He's been the Prince of New Orleans-- either publicly or secretly-- since 1804, and Tabitha has been his sheriff for all that time. A father & grandfather, he holds his family dear.

Gabriella Fortiér
One of Tabitha's closest friends. Tabitha loves her as if she were her own daughter, and indeed she became Tabitha's Childe after her own daughter Elizabeth was grown.

Achan
Wandering the centuries as a Tammuz, Achan at last discovered the secret to making another like himself and in the process he, himself, was reborn as a new human with a soul...and no memory of anything before his rebirth. With Tabitha's help he has built a life for himself, and has finally been able to love her as he never could before.

Raphael
Tabitha's best Hound, their priorities are to clean up their neighborhoods and keep the city safe. Despite her affection for him, Tabitha has never been tempted to give in to his advances!

Bella
Tabitha calls her "The White Lady," and as Tabitha's Ghoul-- and eventually Childe-- Tabitha trained this former mage to perform the duties of caretaker for the dead & protector of graveyards.

Trista
Trista-- unknowingly blood-bound to Tabitha-- is the eager recipient of Tabitha's lessons in healing and herb-lore.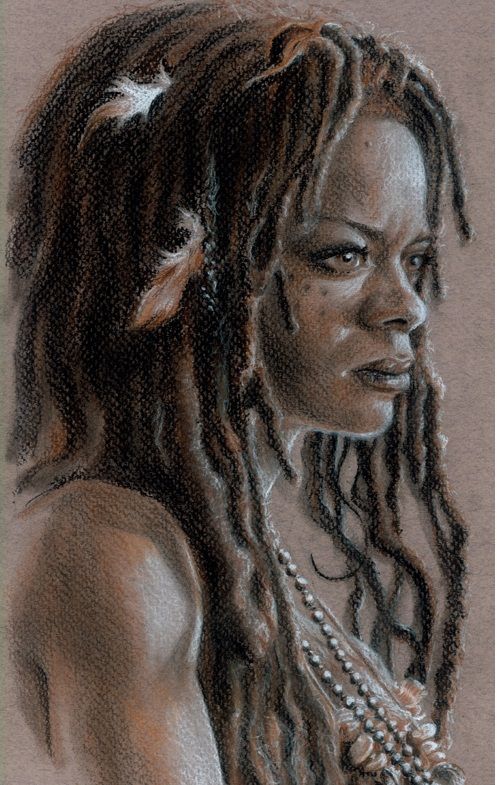 "Visions"
by Faith And The Muse

I walk with phantoms and leaves are burning at my feet
I walk with phantoms
Sometimes they rage
Sometimes they fade
Some must watch while some are singing
Singing the hum of the walking dead

I walk with phantoms and leaves are ice at my feet
I walk with phantoms
Here is the truth
Seven wonders
Seven wonders and the will to live

Singing the hum of the walking dead
Thinking of every word that you said
Singing as garden walls ripple with the blur of bees
Sweetly singing as sunlight streams through the aching trees
Voices trampling the exhausted wilderness
Singing the hum of the walking dead

Burning like the gaze upon a faithless friend
Burning down the lonely trees always in the end
Voices trampling the exhausted wilderness
Dragging the heels of the walking dead
Dragging out every word that you said